About J&K Enterprises
The beginning
"J&K" are John Pisello and Keith Rex. They met in 1993, and their shared interest in antiques led them to open the first J&K Fleas An'Tiques in a small cinderblock building in Milledgeville, Georgia. That was April, 1994.
About J&K Enterprises
The move to Rutledge
In 1996, John took a full-time job in Atlanta. Keith kept running the store in Milledgeville, but the commuting took its toll, and John & Keith moved their household to Rutledge, Georgia—the mid-point between Milledgeville and Atlanta. Rutledge was a vibrant little village with quaint shops and restaurants. The 1996 Centennial Olympic games in Atlanta brought tourists and shoppers, so the boys decided to relocate their business to a small building next to Rutledge's popular restaurant, The Yesterday Café.
Business in Rutledge was good for several years. J&K Fleas An'Tiques, along with two other antique malls in town, attracted antiquers from all over Georgia and beyond. When the owners of one of those malls decided to go out of business, John & Keith took over the business, which they renamed Trackside Treasures (after its location next to the railroad tracks that run through Rutledge).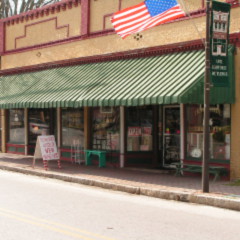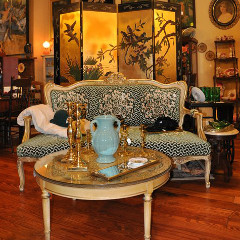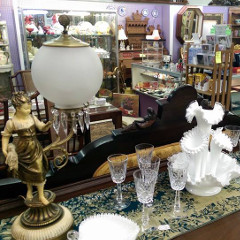 About J&K Enterprises
The move to Madison
In 2006, the landlord sold the Trackside Treasures building. The new landlord wanted to renovate the old sewing factory building, which would take several months. So John & Keith looked for a new location for their business. They found it on Main Street in Madison, the historic city that Gen. Sherman famously refused to burn during his "March to the Sea". In 2007, they relocated their dealers from Trackside Treasures to a two-story, 12,000-sq. ft. J&K Fleas An'Tiques in Madison. The original Rutledge location of J&K continued to operate until 2008, when it was closed and its inventory was brought to the Madison location, along with a new store called J&K Antiques and Interiors, located on Jefferson Street.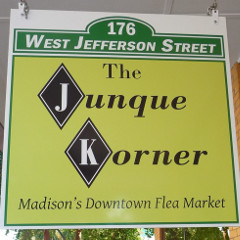 About J&K Enterprises
Expansion & consolidation
The J&K business grew and changed in Madison:
2009: J&K's first consignment shop for ladies, Jefferson Street Consignments, opened next to J&K Antiques and Interiors.
2011: The Jefferson Street stores were relocated to Main Street and renamed to J&K Antiques Etc., and Just Out of the Kloset Consignments.
2013: J&K's consignment store for

men,

Jacks & Kings, opened on Washington Street.
2014: The two smaller Main Street stores were consolidated into a single antiques and ladies consignment store, keeping

the

J&K Antiques Etc. name. Jacks & Kings moved to Jefferson Street, and a new

store,

The Junque Korner, was also opened on Jefferson Street
About J&K Enterprises
Today's J&K, in Madison & Gray
In 2014, Keith took over a struggling antique mall in Gray, Georgia, that was owned by a childhood friend. That location eventually became J&K Fleas An'Tiques of Gray. In 2015, the second floor of the Gray store opened as Upper Deck Consignments.
On November 21, 2015, after 22½ years together, J&K got married!
In May 2016, Jacks & Kings moved into The Junque Korner building to consolidate our real estate on Jefferson Street.
In August 2016, J&K Fleas An'Tiques of Gray moved to a new building on Atlanta Road, with a more open floor plan and a new look.
In July 2017, J&K Fleas Antiques Etc. was consolidated into J&K Fleas An'Tiques and The Junque Korner.
Today our stores serve thousands of antiquers, collectors, consigners, and dealers. We invite you to visit them all!